It's hard to believe that's it's only been a week since Shan's mom passed away. She had been in the hospital for a little over a week following stomach cancer surgery and it had been looking like she was making a good recovery. She had progressed to solid foods and was walking around. She seemed to be almost back to her old self even though it still hurt to laugh.
She had an infection but was being treated for it. Shan's sister had come in for the week and had left on the Friday. We had seen her on the Sunday and she was doing well. The infection had delayed her release but she was expected to be out by the end of the next week.
Then we got the call on Tuesday that she had been sick and they took her in to surgery and that the family should come see her. She did well in surgery and she was expected to recover well. Instead of being out that week, they then expected to hold on to her until the end of the month for recovery.
However, we got another call that night saying that she had taken a turn for the worse. It looked grim. Another surgery was done early Wednesday morning. She had not been expected to survive this surgery, but she did. Again, it was looking promising but she was still expected to be out for the day and we were sent home to get some rest.
We got a call from the hospital at 8 recommending that we come in to see her that morning by 10. Then we got another call telling us to come in right away. We got there and her organs were shutting down. They took her off the life support and she died shortly afterwards.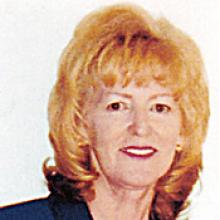 She was a great lady. I remember her as having a good sense of humor and being quite 'crafty'. She helped with the costumes we made, and also made photo collages of the families. She was always skinny and had lost even more weight this last year. She had suffered a stroke a few years ago and still hadn't fully recovered.
The kids will deeply miss the time they used to spend with her during spring break and during the summer. I will miss her deeply. I cannot imagine how hard it must be for Shan or her dad. We were over at their house last week to help clear up matters – it was easier as they had preplanned a lot of it but it was still hard to go through things. In going through her computer files, she had been working on a book of her life and memories - up to about 2005 - the title is above.
We will miss her dearly. Words cannot properly express the loss we feel.